Welcome to
sYLeNt's AsYLuM!
It's the blog page that has BIG things poppin'... little things stoppin'. So sit back, relax and enjoy the view cause I got blogs BETTER than YOU...
"BALLIN'!!"

The 2010 AVN Experience
---
The AVN Experience: DAY 1
This blog is NOT intended for kids so if you're under 18, please hit the "BACK" button. Rainbow, this means you!

After last year's Las Vegas AVN convention which I had the time of my life, my friend and I decided to go back for an encore. As much fun as I had at this year's convention, last year left a deeper impression as I was prepared for what was to take place. Still, there were a few things that were in the realm of the unexpected.
We arrived in Vegas in the pretty early in the afternoon so decided to check into the Hotel.
We stayed at the Mirage which certainly lived up to the hype. It was a very nice Hotel with all the amenities you could ask for… for an additional cost, of course. The room was incredibly nice, spacious and came with a flat screen HD-TV and a fully stocked mini-bar/refrigerator which included practically everything you could ask for from Greygoose to condoms. Seriously.
We were tempted until we saw the price sheet.
Screw that! That Greygoose can stay right where it is!
Since we arrived in Vegas a tad early, we decided to wander over to the convention center to see if anything was going on. Perhaps we could catch some of the celebrities moseying around. Well, when we arrived at the center, the lines were manageable so we decided to attend the show for an additional day to attain as many autographs, swag and photos as we could.
The lovely Katsuni- She's one of my favorite starlets and always seems to take amazing photos with me. This is my 3rd time posing with her.
Angelica Armani- She's very attractive but I'm not too familiar with her movies.
I didn't know who Misty Stone was but she was bubbly, friendly and a fellow Lakers fan. She was an absolute pleasure to talk to and a sweetheart. After we took pics, she gave me a HUGE hug.

While waiting in line for Jesse Jane, Sasha Grey showed up and asked if anyone wanted to do an interview with her. I REALLY wanted to but if my company saw me doing that, I could be in trouble so I had to decline…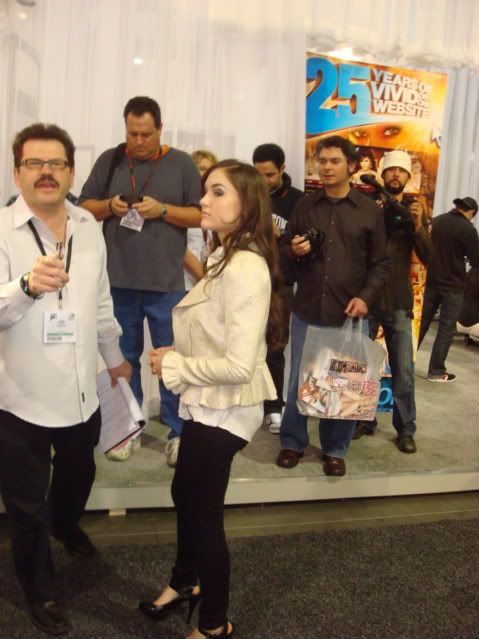 then they closed the damn line for Jesse Jane as she had some kind of interview. Grr!!
None of us knew who Lupe Fuentes was but WOW! She's adorable and gorgeous! Everything about this babe was hot, even her toes! At the time, we didn't realize she didn't speak fluent English so we just figured she wasn't all there or a ditzy airhead. If I had known, I would have certainly dazzled her con mi espanol.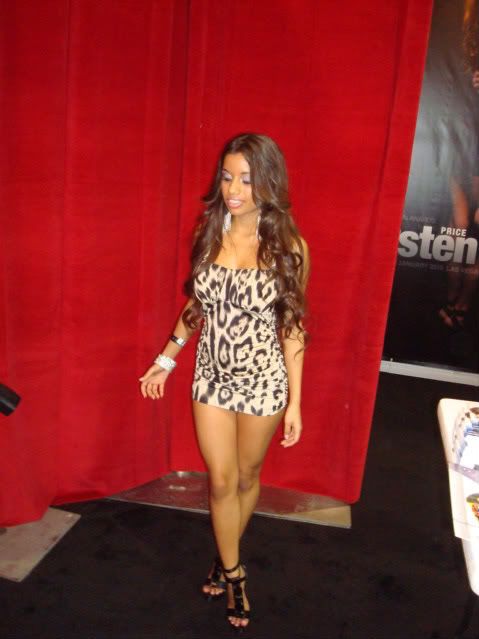 We made our way over to the Fleshlight booth and low and behold, my favorite starlet of ALL TIME, Jenna Haze was doing a signing!
I was beyond stoked so I scurried in line for the chance to meet and take photos with her. To my chagrin, they closed down the line when there were 3 people in front of me to do a molding for Fleshlight. It broke my heart. Still, I got to see her do a molding for the product.
This is the first time that the white stuff on her face isn't seminal fluid.

Apparently, they were going to make a sex toy from the molding of her lips… the upper ones.

After the complete disappointment and heartbreak, we made our way to the Elegant Angel area where Alexis Texas was doing a signing! She was really cool and even let me grip her mammoth backside for the photo! Awesome! LOL!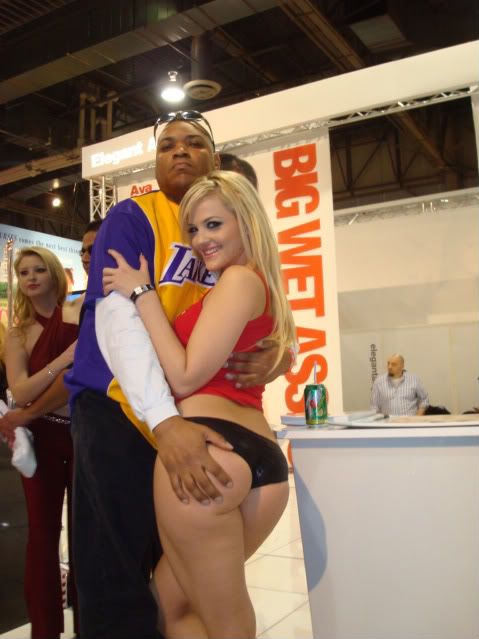 From there, we made our way to the Vivid area where we got to take snapshots with the beautiful Sunny Leone. She was easily one of the prettiest starlets at the show, but her attitude left something to be desired. She acted like she didn't want to be there and it showed.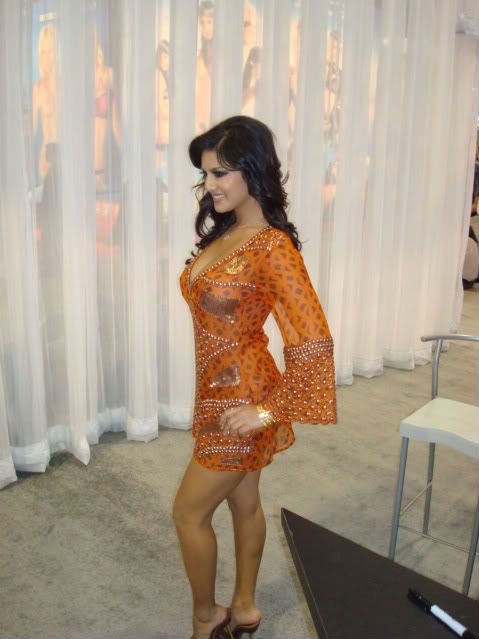 We wandered to the edge of the center and noticed a very attractive, bubbly girl that we had never heard of. Her name was Jayla Starr and man, was she smokin'! She was selling her movies and needed change for a 20 so my friend pulled out four 5-dollar bills. To show her appreciation, she gave him a FREE dvd! We took some really cool pics with her:
I showed her the pics and she REALLY liked them so she gave me her email address to send to her. The funny thing was, the following day, we wanted to take some more photos with her but THIS TIME she charged five bucks!! Screw that! She didn't even remember either of us from the previous day. LOL! I felt like Luthor from Superman II: "Remember me? Oval Office? We shared a few laughs…" She had completely forgotten us. My friend even said, "Hey! Did you forget about the change I gave you from yesterday?" She looked puzzled. LOL! Guess that's what happens when you smoke too much weed. Degradation of brain cells.
Well, for day 1 at the AVN in Vegas, the photos and autographs we scored was much better than expected. Not too shabby. After four hours of non-stop walking and waiting in line, we were famished! After grabbing something to eat, we headed back to the Hotel to get ready for the night scene.
The previous year, we suckered by this douche cab driver that took us to this raunchy, hole-in-the-wall strip joint that played BAD rock music and had skanky-looking women. There were 2 other guys in the cab with us that got immediate hard-ons when the driver said this club was totally nude so their foreign minds were made up. Apparently, the drivers get $60 a head to bring people to their club. It was an epic fail on our part for letting him talk us into it. Live and learn. This year, there would be no equivocation. We were going to Spearmint Rhino and that was final!
Well, when we got there, it appeared okay (aside from the smoke) and the rotation of women was pretty good but practically every table was reserved so if you wanted to get a table, you had to bribe the dude in the front. That part REEKED! It was bad enough that admission was $30 on top of the 2 drink minimum bringing the total to $50… and if you don't have cash on you, BOHICA, buddy! Be prepared to get bent over HARD on the ATM fees. They take a 10% fee of whatever you withdraw from your account. Seriously. Good thing I had cash on me. Thank God for Walgreens on the strip! Before we even did anything, we spent at least an hour wandering around and waiting for someone to leave so we could get a table. When we finally got a table, a bouncer came along and told us it was reserved! WTF?!?.. and these bouncers are big muh-fuckaz. I stand 6'3" and weigh around 250 and most of these guys made me look short and skinny! Anyway, after nearly an hour, we FINALLY got some seats and was able to kick back, relax and enjoy the scenery.
One thing that was quite different from other clubs I've been to was the aggressiveness of the dancers. When you get a lap dance at the Rhino, they don't have a problem with feeling you up, kissing you on the lips or grabbing your package when you're aroused. I was shocked and completely taken aback..... at first.

One thing that turned me off at this club was the overall rudeness of the dancers if you refuse their services. Quite a few of the women would get an attitude if you declined their offer for a dance. Not cool. The way it worked was you would be sitting in your chair, sipping your drink, inhaling the potent, carcinogenic, eye-watering cigarette smoke and enduring the horrific, heart-pounding house music and a girl would slither her way onto your lap and ask if you want some company. The funniest part about this is the psychology behind it all. They'll tell you all kinds of BS to stroke your ego like how attractive they think you are, how strong you appear and how good you smell. Smell? Bitch please! All you smell is cigarette smoke in there! LOL! I had one girl feel up my chest and ask if I work out… I did flex my chest though. LOL! I kind of enjoy the attempted mind-screw because I know where it's headed. Anyway, once you agree to a dance, they'll try their damnest to get you to accompany them to the VIP room after the first song. At most Vegas strip clubs, it's $20 for a single-song dance and $100 for 15 minutes of 'something' when you take a girl to the VIP room. Just once, I'd like to try it out just to see what goes on in there. Someday…
At any rate, this one very attractive girl slid her way onto my lap and asked if I wanted some company. I said "sure" and we BS'ed and shot the breeze for a few minutes. They typically ask where you're from, what you do for a living, what you're doing in Vegas, blah blah blah… A 'get to know you' type of thing. I always play along as it's kind of fun and I love to flirt. I think of it as getting to know your ho. LOL! While they're on your lap, it's open season to fondle their legs before you commit to a dance. What sucks is the music is blaring so loudly that you can barely make out what she's saying most of the time. Hell, it's hard to even think clearly in there. You have to literally shout all of your questions and responses and since I have abysmal hearing and suck at reading lips, it was 10x worse for me. Well, this girl tells me she's from Morocco and of mixed ethnicity. She was hotter than hell and had the prettiest lips I've ever seen on a woman. She was quite thin, caramel-skinned and had shoulder-length spiral permed hair. After a few minutes of dialogue and BS, the song changed and she said, "So how about that dance…" I acquiesced with a subtle nod and she began working me with her routine. At this club, the women were kind of rough and didn't have a problem grinding their knee into your crotch or straight up grabbing your package. At one point, I was about to do like Wayne Brady and "smack a bitch." My jewels are precious.

Other than her being a bit rough, it was a pretty good dance so I let her continue for another song when she asked. At most clubs, you can't touch the women but here, the women ALLOW you to touch you. In fact, this girl grabbed my hands, put them on her heavenly, flat tummy, slowly slid them up to her perfectly augmented, bare-naked C-cup breasts and ferociously squeezed my hands so I could squeeze them. WOW! It was surreal! Of all the women I've dated, I had never felt up fake tits before. The lotion she wore smelled like absolute heaven; sweet, seductive and intoxicating. I think there were pheromones mixed in to add a hypnotic element.
When the second song ended, she slid her hand to my aroused crotch, stroked it for a second and said, "Oh… Look at that! Why don't you come to the VIP room with me and let me take care of that." My response was "ummm…" Before I could think of a lie, she then put her knee into my crotch, rubbed it onto the contour of my erected state and said, "Look at that weapon! It's so big and it needs to be holstered. Come with me to the VIP room and let me diffuse that big thing." After a bit of posturing, I declined and she became REALLY cold, wooden and laconic and said in a robotic, 'going through the motions' type of voice, "Okay, that's two dances plus tips." Tips?!? LOL! Never had a girl tell me that after a lapdance. I gave her the cash, she snatched it, spun around quickly like a point guard in the paint and slithered away into the darkness like the serpent she is. LOL! Guess she's not used to rejection. Ha ha!
When you're in a strip club, there are a couple of very important MAN LAWS that needs to be adhered to by both strippers AND men... (and they need to bring back those commercials.)
MAN LAW- Strip Clubs:
Strippers- Once you give a dance to someone at a table, you DO NOT ask someone in the same party for a dance. It's awkward and almost like dating your friend's ex.
Guys- You, under no circumstances, DO NOT get a lap dance from a girl that any of your buddies previously got a dance from.
It's just awkward and should be avoided at all costs.
Throughout the night, nobody said anything but it was pretty funny how we all stayed away from girls that gave dances to guys in our table.
I got a few dances that night and by the time we left, it was well after 2 in the morning. We had to be up by 8am for the AVN the next day so we called it a night and went back to the Hotel. Next blog: Day 2.

I would have posted more photos but Photobucket doesn't allow pics that show a certain body part.

Views
4361
Comments
6

Comments