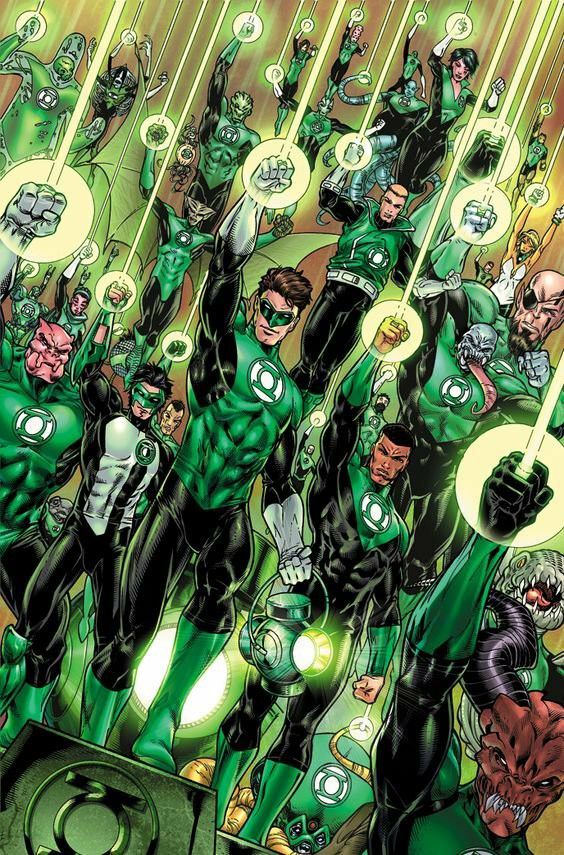 Superhero cinema is so busy these days it's almost easy to forget that the Green Lantern is getting a reboot (contingent, of course, on WB thumbs-upping Geoff Johns' draft after his latest "promotion"). Following the relative flop that was the Ryan Reynolds film (Reynolds is a fine actor, but it wasn't an ideal fit), the character, or more accurately characters of the Green Lantern comics disappeared from the big screen for a little while. However, IMDB already has a page up for a July 2020 film tentatively titled Green Lantern Corps, which means the reboot is actually not too far off. Even if that July date is ultimately pushed back a bit, we're only a few years away at most.
Naturally, the immediate question is which actor will take Reynolds' place in the lead role? As you might expect you can find plenty of polls and debates on this question around the internet, as well as actual betting odds handicapping different actors. The range of bookmaking sites online these days means that there are listings for far more than popular sports, and it's actually not entirely uncommon to see film-related categories, such as who the next James Bond might be, or which film is leading the Best Picture race in a given year. Without simply regurgitating a list of favorites out there, I'll quickly note that Tom Cruise, Common, and Bradley Cooper are among those getting some love from the bettors.
There's an extra wrinkle to this question that it's difficult even for betting odds to reflect, however, which is that by all appearances Green Lantern Corps won't have a single star actor. If you look more closely at that IMDB page, you'll note that the synopsis mentions a "group" of humans joining the Green Lantern Corps, and specifically mentioned Hal Jordan, Guy Gardner, John Stewart, and Kyle Rayner – the Green Lanterns of Earth, as comic fans will recognize. Basically, that means we're in for more of a Fantastic Four, X-Men, or Avengers cinematic approach, as opposed to a solo character one-off. So really, question appears to be which actors, plural, will play the Green Lantern Corps.
The question can't be answered accurately, because we have no confirmed information from the studio or anyone involved with the project. Nevertheless we can at least talk about which choices seem likely, or even which ones would be ideal.
Hal Jordan
There are actually some whispers that Ryan Reynolds remains in contention to reprise his role. Well, let's call them "hopeful whispers." However, the buzz about Tom Cruise is stronger. One "fan cast" article about the project points out that the film apparently is calling for a version of Jordan between 40 and 50, and Cruise can definitely still pull that age range off, probably better than Reynolds can. He also has the increasingly rare distinction of not having played a superhero yet going for him, he's still a massive box office star (see: Mission Impossible), and he might just be on the lookout for a fresh fantasy franchise after his reboot of The Mummy was critically panned. Cruise appears to be a perfect fit, and would bring some gravitas both to this specific project and to the DCEU.

John Stewart
Here the rumor is that DC and Warner Bros. are looking for someone younger to play the hard-nosed sniper-turned-superhero, who will effectively comprise a galactic buddy cop duo with Jordan. If someone like Cruise is to take on the part of Jordan, Stewart can't be some young unknown however; he has to be a very capable actor who can play off of Cruise convincingly and without being overpowered. There's a reason it's taken six Mission: Impossible films to narrow down a team for Cruise's character to work consistently with. He's so good not many partners really show up alongside him. There are currently rumors out there about Sterling K. Brown, but he's slightly old for the rumored interpretation, and there's some buzz about American Gods star Ricky Whittle as well. Whittle is intriguing, but I'd go with John David Washington. The son of Denzel is starting to show some pretty serious chops of his own, and it would be fascinating to watch him give this a shot.
Guy Gardner
A few sources out there make it sound like the film will focus mostly on Jordan and Stewart, but again, the IMDB page mentions Gardner and Rayner also, so we should at least expect these additional Green Lanterns to make the cut. Gardner's is a fun spot to cast because it stands to reason he'll steal what scenes he's in given his hot head persona (which could very easily be morphed into the film's strongest dose of comic relief, even if that's a slight warping of the character). I suspect this won't be the most popular call, but I actually think Mark Wahlberg would be terrific, even if he's probably unrealistic for a supporting role. For someone slightly younger and probably more attainable, Sam Clafin, Keegan Allen, and Zac Efron could also be interesting.
Kyle Rayner
I'm not against a ethnicity swap here! Even the comics couldn't keep this straight (originally he was all white, then half Mexican, now back to all white, at last look… writers seem to like having him meet his dad for the first time over and over again). Steven Yeun is out there as a suggestion for this role, and it's hard to do much better. Best known for his work on The Walking Dead, he can very easily play the earnest, sympathetic, yet capable young hero Rayner works best as. In outlying media it has also been mentioned that Rayner has often been depicted as being Asian even if his background is not entirely consistent, and it would be nice to see Warner Bros. and DC embrace this diversity with an actor like Yeun. He could be excellent in the role.