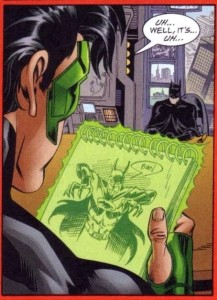 What Does a Green Lantern Do on Their Days Off?
Have you ever wondered what superheroes do when they're not fighting crime or saving the universe? It's not something that gets covered in comic book stories and movies very often, because all the emphasis is on the protagonist's battles with evil and his or her internal struggles with their own personal demons. Do they even have time for a day off here and there? Of course, reading about the day Wonder Woman read a great book, or watching a Green Lantern cataloguing his stamp collection wouldn't make the most riveting story, but surely there must be more to their lives than the unending stress of getting Earth out of yet another tricky situation that spells doom for the human race?
They must have other things to do, surely?
If you're thinking that superheroes obviously must do other things in their spare time, see if you can name any. Have a search on Google and discover the almost complete lack of any information on how the saviors of the human race kick back and relax. In the Lego movie, Justice League vs the Bizarro League, the Flash does ask for some ideas for things to do because he's bored, and has a go at hobbies like ice sculpture and North American bird calls, but then these only take him seconds to master and he doesn't seem able to slow down and stop moving at the speed of light!
Green Lantern could be a secret Pokémon addict
Given that there are a great many different Green Lanterns in the universe stretching back a fair way into history, it could be argued that it's perfectly possible that one of them may have got hooked on Japanese pocket monsters, but there's no evidence that any of the human lanterns ever have. In asking a question like "What does a Green Lantern do on his days off?", you immediately hit a problem because unlike Superman or Batman, Green Lantern is a title held by a series of different people. These lanterns have all had their own unique personalities, so obviously there's no simple answer. But if you know your lanterns, you could make a pretty educated guess:
* Hal Jordan: Being the definitive hero type, Hal would probably be happiest using his leadership skills to crack the fiendishly cunning challenge of the Escape Room St Louis. With the kind of life he's had to lead, giving his brain a rest is likely to be an alien concept, and figuring out a mystery puzzle might be just the kind of challenge he would consider to be a relaxing diversion.
* Guy Gardner: Although his persona has shifted a few times over the years, Guy has always had an impressive ego, so a show-off sport like snowboarding could be right up his street. Showing off his skills on the half-pipe with a few ollies and a poptart would suit his style to a tee.
If you know anything about the hobbies and pastimes of any of the Green Lanterns, spread the word – there are a lot of interested fans out there waiting to hear more!