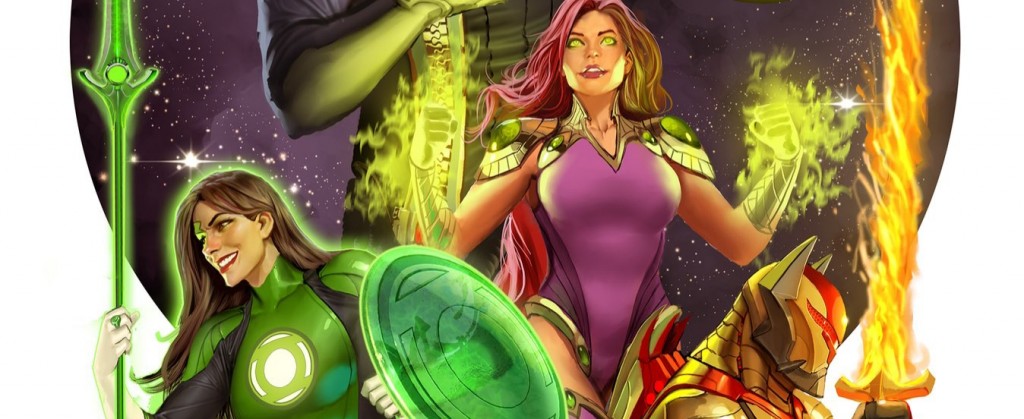 Are you ready for an adventure cosmic adventure? Are you ready to fly into a sector of space where you might question the vary nature of our reality? Are you ready…to bow to Darkseid? I can't help but be super excited about this latest Justice League book. My expectations are set to high, and I'm hoping that Joshua Williamson and Stjepan Sejic exceed them. As always remember there will be spoilers, so be sure to read your comic before reading this review. You have been warned.
In today's current media climate, a new series has to quickly establish itself and that can be done in typically one of two ways. The first is usually exposition heavy, or it's all completely vague alluring the reader with a hint of mystery. While Joshua Williamson does implement both tropes, the defining trait from this new word can be boiled down to three letters. Fun. While both Justice League and Justice League Dark also deal with matters that are larger than life, Odyssey wants to revel in the craziness  and fun character banter. I know that certain fans will immediately make comparisons to a certain franchise from a rival publisher, but honestly I feel that Williamson is simply trying to recreate the epic space adventures of science fictions past.
There's an energy to this comic that no other DC comic can lay claim to. Williamson wants to take you on the cosmic ride of your life.
One of the better aspects of this series is Jessica being apart of the roster, now I know that might be a bit bias but I've grown to love her as a character. Williamson perfectly captures Jessica's personality, even down to her fiery side. I love the fact she still gets nervous despite of all the insane adventures she's been on. So it's nice to see that she'll be in good hands with Williamson. The oddball of the group happens to be Azrael (I'll get to Darkseid in a bit), as I'm not sure exactly what his overall purpose on this team is. At a glance Azrael seems to be the comic relief (fighting against the demon telling to kill your teammates is funny to me okay) and I'm not against making Azrael a more aloof character. I'm sure as the series goes on, Azrael will be develop more but I'm okay with his role as of this first issue. The elephant in the room however is Darkseid, and I know that many people were confused as to why would the God of Evil ever join part any faction of The Justice League. While Darkseid did call Cyborg, Starfire and Azrael (sorry Jessica), it seem to me that Darkseid was the catalyst for this new team. Ultimately I know that Darkseid will betray this team at some juncture, the question will ultimately be who will by into Darkseids words. It'll be interesting to see where this all ends up.
If there's one other aspect of Justice League Odyssey that fans will be talking it and it's Stjepan Sejic's art. If there ever was a series that was tailored made for them it's Sejic on Justice League Odyssey. The level of detail in his double page splash pages is absolutely insane, it's Bryan Hitch level of detail without Sejic trying to mimic Hitch's cinematic style. If you wanted crazy designed space ships along side nightmarish creatures then Sejic beautiful work has you covered. What might go unrecognized is how much personality he injects into these characters, small character quirks that make them feel alive. Yes certain panels, the line work tends to look a bit muddy but overall this is art unlike anything else on the comic stands now. If you something that's a bit different then try this book.
Justice League Odyssey has a lot of promise and I can easily say that I want to be on this crazy ride and hope it never stops. An amazing first issue.
Justice League Odyssey #1 earns a 4/5