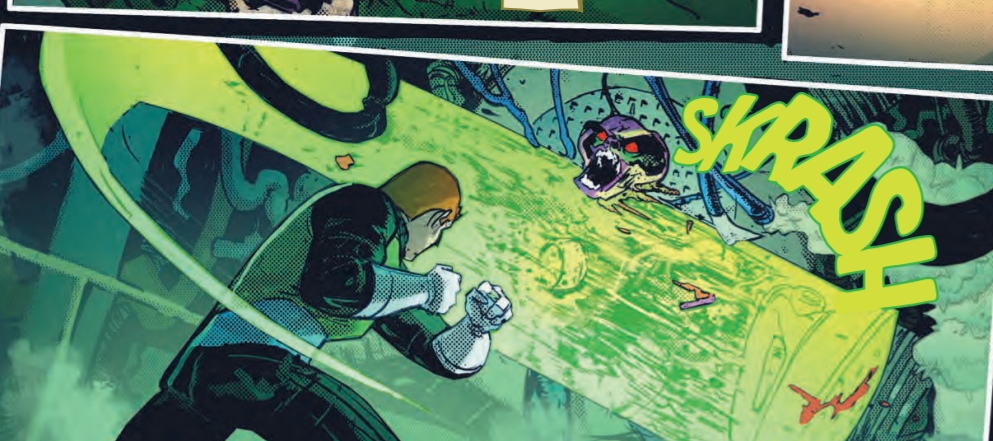 Spooky times and chilling crimes fill this massive collection of stories from DC Comics. Cursed Comics Cavalcade provides readers with a scary good time presented by creators you may not know working on characters you love. I'll focus on the Green Lantern story starring Guy Gardner, but it should be mentioned (repeatedly) that there is a lot to offer here in these 70+ pages of content. Beware! Spoilers coming soon.
So I should start by apologizing to Riley Rossmo, the artist on this Guy Gardner short story. I love his work, but I never thought he'd be a good fit in superhero comics. His work was always so visceral and such a stark contrast to the usual muscle explosion we see on a weekly basis. My apologies sir, for you can draw anything! Rossmo has Guy Gardner looking great. Guy is on vacation and of course he wears Hawaiian shirts and is scarfing down food and drinks the entire time. It's not just the funny bits that Riley nails, he's also pretty damn good at letting Guy Gardner kick ass. There's not much better in comics than seeing Guy literally mow down disgusting looking aliens and then follow that up with a chainsaw and assault rifle. Yeah, good times.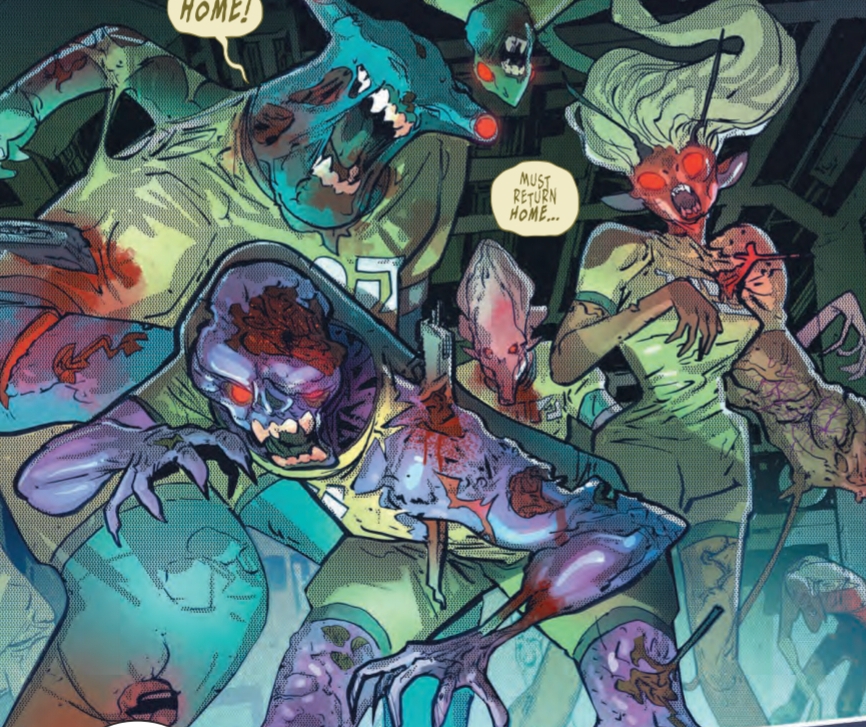 The story has Guy stopping a prison freight train of a ship from taking out a continental sized vacation spot of his, all while he investigates why its on the move anyway. Kenny Porter crafts a story creates intrigue, tension, lighthearted lines and even a genuine moment of reflection all in a few short pages. I haven't had the chance to read anything from Mr. Porter before this issue but I'd be glad to do so now.
Much like the New Talent Showcase, Cursed Comics Cavalcade #1 is filled with beaming talent on all sides of the creative process. Matt Wilson gives Ivan Plascencia a run for his money as both colorists shine bright on Wonder Woman and Green Lantern respectively. In a Green Arrow story, written by Michael Moreci, I'm introduced to the skillful Felipe Watanabe. If he isn't one of comics next big artists, something is wrong with this industry. Every single story has a different tone. All are distinctly beautiful and uniquely perfect for this collection. More than a few do a great job of setting up a story and completing it, while others leave you wanting so much more from established and new characters.
Cursed Comics Cavalcade #1 earns a 4/5