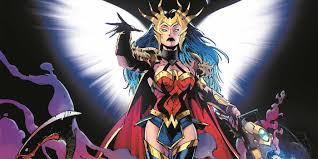 DC will give readers what they want this summer—bigger, louder, faster, and "metal-er"—as the publisher announced its plans for Dark Nights: Death Metal, the sequel to the smash-hit 2017-18 series Dark Nights: Metal, which brought widespread changes to the DC universe and introduced fans to the Dark Multiverse and a runaway-hit villain, the Batman Who Laughs.
A new Dark Nights: Death Metal series means an encore for the original team of hardcore headbangers: the bestselling team of writer Scott Snyder and artist Greg Capullo, along with inker Jonathan Glapion and colorist FCO Plascencia. Issue #1 of this six-issue miniseries hits comic book stores and online retailers on May 13, 2020. The series will also include several "Metalverse" one-shots throughout the summer months, expanding the vast world created by the Death Metal storyline. 
Click here to read the full article.