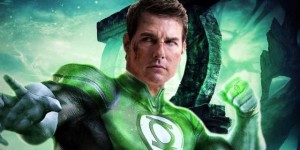 A lot of articles are spreading like wildfire in the past couple of days about Tom Cruise being "in the running" for Hal Jordan in the "Green Lantern Corps" film but he has one condition: he dies in the script, but he doesn't want to. If they change this in the script, he's all good.
There is a couple of very obvious things wrong with this.
As has been well documented, after his simultaneous ousting as CCO of DC and President of WB Entertainment, as a consolation prize Geoff Johns was and has been tapped to write a first draft on the "Green Lantern Corps" screenplay there is no guarantee they will even use. It is neither complete nor turned in yet, nor given the thumbs up by WB as any kind of, "OK, this is something we want to move forward on." As Geoff Johns has admitted in interviews, he "hopes" WB likes it and the hope is that they would proceed with his vision. "Hopes" being the operative word. They could very easily pass on it, as they passed on his script wrote in tandem with Ben Affleck for the original version of "The Batman" that Ben Affleck was going to direct.
There are several key words in there. The long and the short of it is that there is no script yet, the casting process is a long ways off (like, you know, when WB knows what movie it is they're shooting, as they haven't even read Geoff's script yet because it doesn't exist). Tom Cruise cannot be "in the running" if the casting process is still in the distance. Can you imagine pitching Tom Cruise right now?
—
WB: "Hi, Tom. A word?"
Tom Cruise: "Hey, sure! What's up, WB?"
WB: "You want to play Hal Jordan in our new Green Lantern Corps movie?"
Tom Cruise: "Eh… I dunno. The last one was kind of iffy. Wasn't that the one co-produced by Geoff Johns? That word is around Hollywood, you gave full veto authority to, creatively?"
WB: "Yeah! It's funny you mention him. He's the guy that's writing the script of the new one."
Tom Cruise: "Oh."
WB: "Well what do you say? Are you in?"
Tom Cruise: "Jeeze, I dunno. I guess I'd need to read a script first. Can you send one to my agent?"
WB: "Doesn't exist yet. But Geoff Johns is a great guy! He used to work for Richard Donner in like the 90s for little bit, as he mentions in many, many interviews you can Google. You may remember Richard Donner from SUPERMAN! #richarddonner"
Tom Cruise: "Ehhh… right, but… so you basically have nothing for me to look at right now? Fallout's doing pretty great but I certainly don't want another Mummy…"
WB: "Nope! But are you in?"
—
You can see how absurd that is, yes? Nothing to see here, folks. Everything you read on the internet isn't true.
Discuss here.