The following is an interview with Tyler Kirkham, the new ongoing artist for the Green Lantern Corps series. Brought to you buyTheGreenLanternCorps.com
TheGreenLanternCorps.com: So Tyler, please tell us the surely amazing story of how you got into the comics industry?
Tyler Kirkham: Well when I was young I had my mom take me to conventions, showing my portfolio to whoever would look at it. When I was in high school I drew my own comics hoping to submit to Image[Comics] one day. I had a friend that was living in California who I would send him copies of my art once in a while. His roommate saw my art and wanted to take it to a comic publisher near by– Top Cow. He walked right in and ended up talking to one of the editors at the time. She must have saw some potential, because she took my info. I started talking to her on and off while sending her any new pages I did. I would also go to cons and talk to her. She liked my art enough to tell me about an indy book she was editing on the side– The Gift. I got that gig and worked on that until Top cow felt I was ready to move to LA and work there in the studio..
TheGLC: Seems like a great friend to have. We had a chance to talk with Editor Eddie Berganza at this years San Diego Comic Con about you bringing your talents to Green Lantern Corps. He told us how dynamic you were and how he believed you and Tony Bedard would create something special. I'd like to hear your view of this move. What factored into your decision to join DC Comics and what about Green Lantern Corps made you accept the offer?
Tyler: Well I had been talking to Eddie on and off for years about doing some DC work at some point, I was just under contract with Top cow or doing Marvel books. My contract was ending and I was starting to think about seriously wanting to do some DC work. We talked on the phone and worked out a deal. I weighed out my options with Top cow, and after talking to multiple people who worked or currently work for DC I felt it was the best move for me. I really love the folks at Top cow so it was quite hard leaving to be honest.
As far as doing Green Lantern Corps, Eddie and Adam [Schlagman, Associate Editor] already knew they wanted to put me on it And when they asked if I was cool with it, I was extremely happy. The first thing that popped in my head was 'this is gonna be a major challenge due to all the characters and worlds', but that was also gonna be the fun part. Drawing so many different characters! The movie coming out soon also helped in my decision. The other major factor was how DC went up and beyond to get the team I wanted to work with. I was also super excited to work with Tony [Bedard]. Just overall from the first time I talked to DC till now they have been super awesome!
TheGLC: You mentioned DC was able to get the team you wanted for this new venture. Who will joining you in art duties? Will you be tweaking your style from your previous work?
Tyler: I am drawing this different from my most recent Top cow book, Mysterious Ways, which was my darkest book I've done. So this is quite different. I'm not really changing my style though from what I've done. As far as the team goes, Matt BATT Banning is inking it! We have worked together in the past. He is one of the best in the biz for sure! He is a serious comic veteran. He's inked guys like Silvestri, Finch and Billy Tan. He also inked a lot of Shane Davis' books a couple years ago. We did a DC Comics/Top cow crossover a few years ago. Superman, The Darkness. So Eddie knew how we looked together already and wanted that look again.
For colors its Nei Ruffino. I have always wanted to work with her on a book. We have done some covers and stuff together, but nothing major. She used to color Green lantern Corps I believe. She is also coloring Birds of Prey currently and some Zenescope stuff. I am very excited about how the pages are turning out from inks to colors!
TheGLC: Great to hear! We've had a few artists come and go over recent years, giving their take on the various lanterns. I know its early, but have you found your favorite lantern to draw? Its perfectly fine to say Sinestro, by the way. None of us will judge you.
Tyler: I'm having fun drawing everyone so far. That's the best part about this book;there are so many characters to draw. Kyle is really fun to do, but I gotta say I'm having the most fun drawing the Weaponer, the villain in the story arc. I got to design his costume so it's really fun to the able to draw him multiple times, and angles. I'm trying to make him a really cool character in the DC universe.
TheGLC: There are many fans that believe Green Lantern needs more unique villains like The Weaponer. Is designing new characters for whatever purpose something you're looking forward to or is a smaller scope of characters your preference for this title?
Tyler: I didn't really know I was gonna be designing him actually until right before I got started. Once I found out about him and how he was really gonna be part of the story I was really excited! We went back and forth a couple of times until we were all happy. We knew we wanted him to have a Qwardian helmet; rather than just giving him some blacksmith elements.
Exclusive look at THE WEAPONER Design by Tyler Kirkham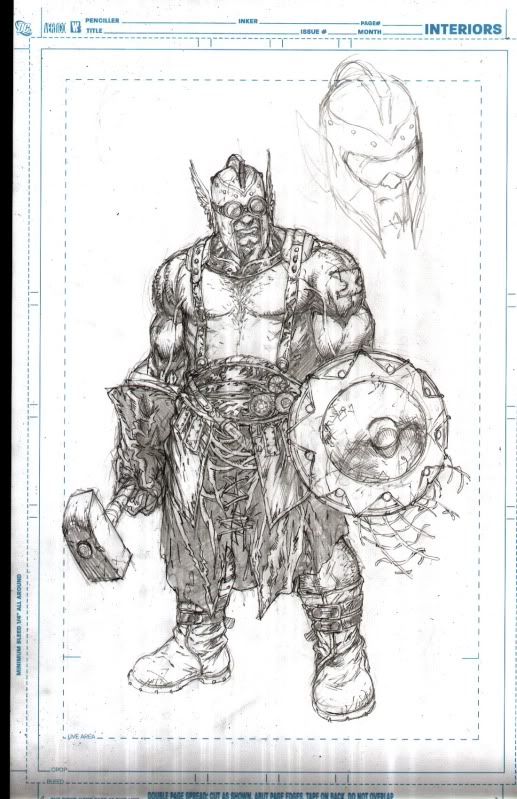 TheGLC: Let's talk about the future of the Green Lantern Corps for a bit. We've been teased the last couple of months of an impending Green Lantern War, but what's in the immediate future for our heroes?
Tyler: We'll I know that the first 4 issues I do are the Weaponers arc, then I don't know much about after that to be honest. Some times its good for me not to know to much. That way my head stays in the current story line and I don't get distracted by future story plots and ideas. I'm sure the writer Tony has some good stuff in store for everyone! I'm excited to see myself.
TheGLC: Ending things on a high note, let's shift back to you. A lot of people in comics are too busy to read comics. Do you have the time to sit down and enjoy(or hate) a comic? If so, what are you reading?
Tyler: I still read comic, yes. I read most of Top Cow, and Aspens books. I read the lantern books now, The Flash, Haunt and various other DC and Marvel books. I also buy allot of books just for the art. I read all Millars books, Nemesis and Superior are cool! What ever catches my eye that week.
TheGLC: Well, thanks a million times over for joining us Tyler. We hope to speak with you again soon, and continue enjoying your fresh take on the Green Lantern Corps every month.
Tyler: Cool,no problem.
Tony Bedard and Tyler Kirkham's Green Lantern Corps #53 is already in stores, and issue #54 is scheduled for November 17th. Also be sure to check out TylerKirkham.com! and follow him on Twitter for the latest info!