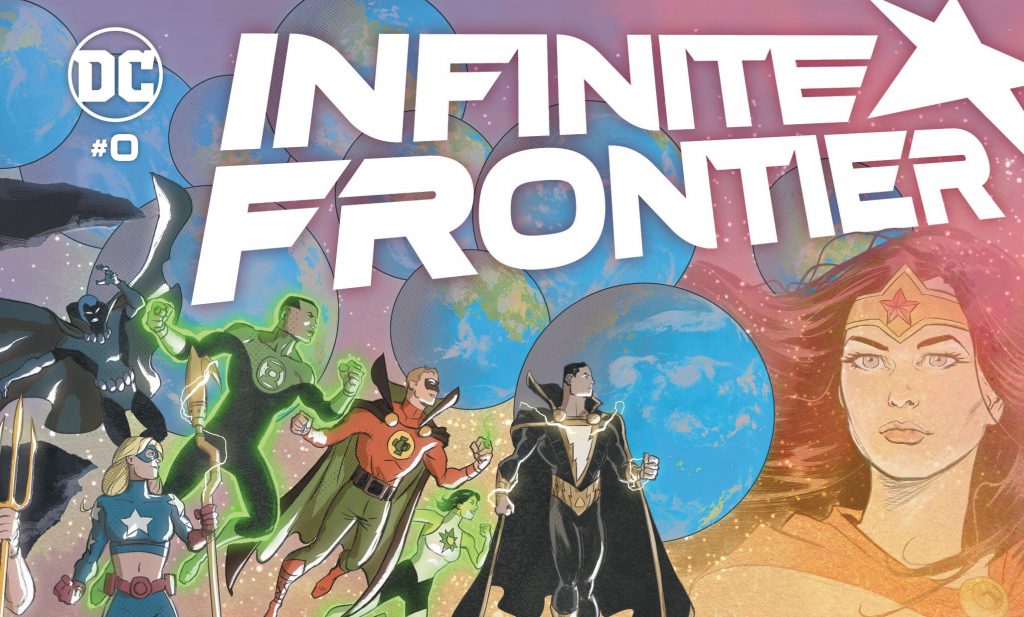 Here we go again! Your special time to glimpse into the future of the DC Universe is here. Are you ready to journey into the Infinite Frontier?! Are you ready to cap off Grant Morrison and Liam Sharp's second season? ARE YOU? Well fine, lets get this started then shall we?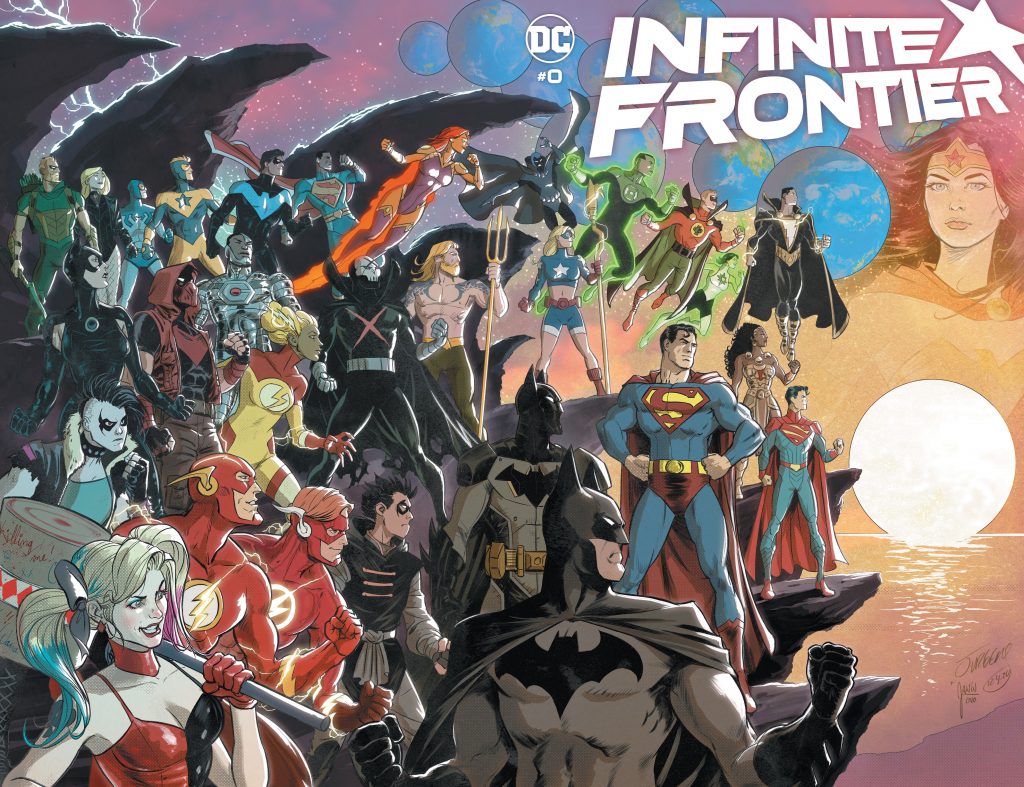 INFINITE FRONTIER #0
written by SCOTT SNYDER, GEOFF JOHNS, JAMES TYNION IV, JOSHUA WILLIAMSON, GEOFFREY THORNE, PHILLIP KENNEDY JOHNSON, BRIAN MICHAEL BENDIS, BECKY CLOONAN, MICHAEL W. CONRAD, JOËLLE JONES, and TIM SHERIDAN
art by JOHN TIMMS, HOWARD PORTER, JOËLLE JONES, JORGE JIMENEZ, ALITHA MARTINZEZ, DAVID MARQUEZ, STEPHEN BYRNE, JAMAL IGLE, DEXTER SOY, RAFA SANDOVAL, ALEX MALEEV, JOHN ROMITA JR., and others
wraparound cover by DAN JURGENS and MIKEL JANÍN
card stock variant cover by JOHN TIMMS
ONE-SHOT | ON SALE 3/2/21
$5.99 US | 64 PAGES | FC | DC
card stock variant cover $6.99 US
The next phase of the DC Universe begins here! Dark Knights: Death Metal presented the darkest threats of the Multiverse. DC Future State revealed what may lie ahead. Now it's time to look into the Infinite Frontier of the current-day DC Universe.
In Gotham City, The Joker jolts citizens awake with an attack even the Dark Knight never expected. In Brazil, a young woman discovers her destiny and her connection to the Amazons. In Belle Reve, Amanda Waller plots an invasion of Arkham Asylum. In the far reaches of space, Mongul dreams of galactic domination, while the Green Lantern Corps hosts a summit of its greatest enemies. At the Hall of Justice, the League joins forces with Black Adam. Beyond the mortal world, Wonder Woman settles into a new role in the godsphere. And somewhere in the DC Universe—it's the return of Stargirl, in an all-new tale written by Geoff Johns!
This oversized, all-star issue kicks off the next great era of storytelling and excitement as top writers and artists reveal what's next for the World's Greatest Heroes and opens the door to some of the greatest stories of 2021.
CRIME SYNDICATE #1
written by ANDY SCHMIDT
art by KIERAN McKEOWN
backup story art by BRYAN HITCH
cover by JIM CHEUNG
variant cover by SKAN
ON SALE 3/2/20
$3.99 US | 32 PAGES | 1 OF 6 | FC | DC
Spinning out of Dark Nights: Death Metal, the Multiverse is reborn—and Earth-3 with it! In this six-issue miniseries, witness the true origins of the malevolent makers of mayhem known as the Crime Syndicate as a common foe unites them! But how long can alliances last between villains like these?
Also in this issue, it's the origin of Ultraman in our special backup story drawn by superstar artist Bryan Hitch!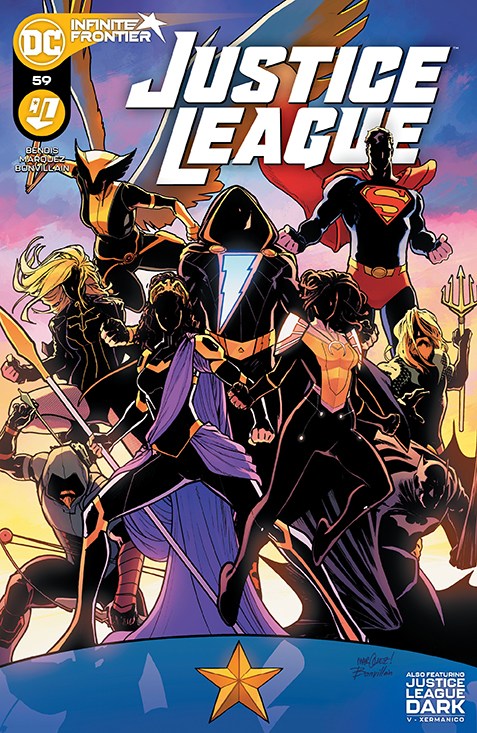 JUSTICE LEAGUE #59
written by BRIAN MICHAEL BENDIS
art and cover by DAVID MARQUEZ
backup story written by RAM V
backup story art by XERMANICO
wraparound variant cover by DAVID MARQUEZ
variant cover by KAEL NGU
ON SALE 3/16/21
$4.99 US | 40 PAGES | FC | DC
Writer Brian Michael Bendis reunites with artist David Marquez (Miles Morales, Iron Man, Batman/Superman) for a new, star-studded Justice League featuring Superman, Batman, the Flash, Hawkgirl, Aquaman, Hippolyta, new DC powerhouse Naomi, and…is that Black Adam?! Superman is leading the charge to reinvent the Justice League—and at the same time, a new, cosmic-powered threat arrives from Naomi's homeworld to rule the Earth!
And in the backup story, dark days lie ahead for the new Justice League Dark. Zatanna and John Constantine take a road trip, only to discover horror around the bend as a friend—and sometime foe—is reborn in fire! A legend is destroyed, and another takes a terrible turn, as Merlin reveals the beginning of a new, blood-drenched plot for all humankind. So begins writer Ram V's new journey into the abyss with the Justice League Dark and artist Xermanico!
THE GREEN LANTERN SEASON TWO #12
written by GRANT MORRISON
art and cover by LIAM SHARP
variant cover by LADÖNN
ON SALE 3/9/21
$4.99 US | 40 PAGES | FC | 12 OF 12 | DC
It's Hal Jordan vs. Hector Hammond, and our Emerald Knight will need to summon all of his willpower to face down the psionic madman. Check out Grant Morrison and Liam Sharp's grand finale more than two years in the making! This tale touches on every plot thread from the entire run, and it's fully charged with fantasy, sci-fi, and Green Lantern lore. Say it with us now, "In Brightest Day, In Blackest Night…"
THE OTHER HISTORY OF THE DC UNIVERSE #3
written by JOHN RIDLEY
art by GIUSEPPE CAMUNCOLI and ANDREA CUCCHI
cover by GIUSEPPE CAMUNCOLI and MARCO MASTRAZZO
variant cover by JAMAL CAMPBELL
ON SALE 3/30/21
$6.99 US | 48 PAGES | 8.5″ x 10.875″
3 OF 5 | FC
DC BLACK LABEL | AGES 17+ | BIMONTHLY
1983. Japan. Tatsu Yamashiro's life has been taken from her. Her home, her children, her husband are all gone. With nothing left but a burning pain and the sword that stole her family from her, Tatsu begins a long journey of healing, self-discovery, agency, and rebirth. This is the story of Tatsu Yamashiro, the woman known to many as Katana—a hero who became more than the world ever intended for her, ultimately making a family of like-minded Outsiders who rally together for the common good amidst xenophobia and oppression.
The long-awaited miniseries written by Academy Award-winning screenwriter John Ridley (12 Years a Slave, Let It Fall) and beautifully illustrated by Giuseppe Camuncoli and Andrea Cucchi continues to look at the mythology of the DC Universe as seen through the prism of DC Super Heroes who come from traditionally disenfranchised groups.