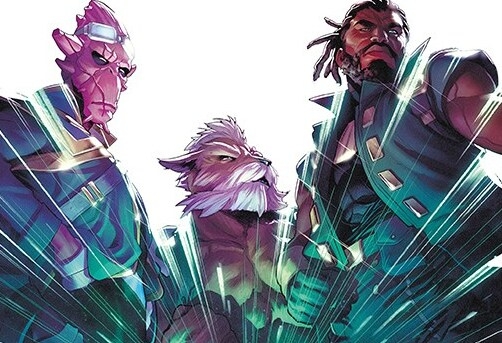 Still in that future state of mind. Get it? Cool. Take a glimpse into the 2021 we desperately need, with these Green Lantern solicitations. Bonus challenge: See if you can the resist the temptation of staring at a certain lantern's pecs.
FUTURE STATE: GREEN LANTERN #2
"The Last Lanterns" written by GEOFFREY THORNE
"The Last Lanterns" art by TOM RANEY
"Teen Lantern" written by JOSIE CAMPBELL
"Teen Lantern" art by ANDIE TONG
"Hal Jordan" written by CHRISTOPHER PRIEST
"Hal Jordan" art by DEXTER SOY
cover by CLAYTON HENRY
card stock variant cover by JAMAL CAMPBELL
ON SALE 2/9/21
$5.99 US | 48 PAGES | 2 OF 2 | FC | DC
CARD STOCK COVER $6.99 US
Outnumbered but never outwitted or outfought, John Stewart leads the last of the Green Lanterns against insurmountable odds. Facing a bloodthirsty Khund cult dedicated to the "God in Red," the onetime Green Lantern shows that even without a ring or the Corps to back him up, he's still a force to be reckoned with!
Plus, from the pages of Young Justice, Teen Lantern teams up with Mogo, and Hal Jordan reconnects with Oliver Queen after the power battery goes down!
FUTURE STATE: JUSTICE LEAGUE #2
"Justice League" written by JOSHUA WILLIAMSON
"Justice League" art by ROBSON ROCHA and DANIEL HENRIQUES
"Justice League Dark" written by RAM V
"Justice League Dark" art by MARCIO TAKARA
cover by DAN MORA
card stock variant cover by KAEL NGU
ON SALE 2/9/21
$5.99 US | 48 PAGES | 2 of 2 | FC | DC
CARD STOCK VARIANT COVER $6.99 US
Exiled to a distant planet, the Justice League suspects an impostor in their midst, but not even the next Batman or Green Lantern can find the clues they're looking for. Meanwhile on Earth, the terrifying return of a classic Justice League villain may spell doom for the planet! Doppelgängers abound, paranoia runs rampant, and only the Justice League can save humanity—if they can ever find their way home.
Plus, all the world's terrible truths are revealed as the Justice League Dark make their last stand. Hunted, beaten, and harvested for their magic, Zatanna, John Constantine, Detective Chimp, Ragman, Madame Xanadu, and Etrigan all unleash a desperate plan that could destroy them—but is it worth the cost to finish Mad Merlin and his mysterious Knights? Only Doctor Fate knows, and the truth may spell hope or doom!
GENERATIONS FORGED #1
written by DAN JURGENS, ANDY SCHMIDT, and ROBERT VENDITTI
art by BRYAN HITCH, MIKE PERKINS, BERNARD CHANG, PAUL PELLETIER, and others
cover by LIAM SHARP
variant cover by GARY FRANK
ONE-SHOT | ON SALE 2/23/21
$9.99 US | 80 PAGES | FC | DC
Dispersed through time by the villain Dominus, our ragtag team of generational heroes—featuring 1939 Batman, Kamandi, Superboy, Steel, Starfire, Sinestro, Booster Gold, and Dr. Light—must find a way to restore the timeline…and what they ultimately discover is something far, far greater. You'll have to read it to believe it as time dies…and generations rise!
FAR SECTOR #10
written by N.K. JEMISIN
art and cover by JAMAL CAMPBELL
variant cover by YASMINE PUTRI
ON SALE 2/2/21
$3.99 US | 32 PAGES | 10 of 12 | FC
DC BLACK LABEL | AGES 17+
The groundbreaking sci-fi series approaches its thrilling climax!
Since arriving at the City Enduring, Sojourner "Jo" Mullein has confronted an insidious conspiracy of murder and mayhem, but even this most resilient Green Lantern reaches her breaking point when she uncovers an "emotional sweatshop" producing black-market feelings for a world without them. But Jo is only too human…
THE GREEN LANTERN SEASON TWO #11
written by GRANT MORRISON
art and cover by LIAM SHARP
variant cover by PHIL JIMENEZ
ON SALE 2/9/21
$3.99 US | 32 PAGES | 11 of 12 | FC | DC
Hal Jordan's future as a Green Lantern is threatened when the Young Guardians' plans to restructure the Corps move into high gear. What's a guy to do but take a vacation? But when Jordan arrives on the swords-and-sorcery world of Athmoora for some R&R, he comes face to face with the biggest threat the universe has ever known—and a coalition of foes determined to bring his career and his story to its apocalyptic end! You cannot miss the game-changing two-part finale of Morrison and Sharp's epic run…
JUSTICE LEAGUE ODYSSEY VOL. 4: LAST STAND TP
written by DAN ABNETT
art by CLIFF RICHARDS and WILL CONRAD
cover by SKAN
ON SALE 3/30/21
$16.99 US | 176 PAGES | FC | DC
TRADE PAPERBACK
ISBN: 978-1-77950-916-1
It's the team's final stand against Darkseid! Lost beyond the edge of the universe, the misfit team of Justice League Odyssey crosses paths with Epoch. The Lord of Time has a great plan to solve everything, but it might be the single most dangerous thing anyone has ever done—putting him at odds with Darkseid, with reality at stake. Green Lantern Jessica Cruz and her team have one chance to avert catastrophe, but they'll have to steal Epoch's time technology to do it…and risk unraveling the entire history of the DC Universe! Collects Justice League Odyssey #19-25.
THE FINAL NIGHT TP
written by KARL KESEL and RON MARZ
art by STUART IMMONEN, MIKE McKONE, DARRYL BANKS, and others
cover by STUART IMMONEN and JOSE MARZAN JR.
ON SALE 3/9/21
$16.99 US | 176 PAGES | FC | DC
TRADE PAPERBACK
ISBN: 978-1-77901-912-3
Darkness envelops the DC Universe, as the aptly named alien known as the Sun-Eater plunges the Earth into permanent night—and along with it, freezing temperatures and ecological disaster. Can DC's greatest heroes and scientists save the day? And what does this mean for Superman, whose powers are derived from Earth's sun? With hope all but lost, can Hal Jordan save a planet he previously turned his back on? And if so, at what cost? Collects The Final Night #1-4, Parallax: Emerald Night #1, Green Lantern #81, and The Final Night Preview #1.
JLA: THE TOWER OF BABEL THE DELUXE EDITION HC
written by MARK WAID
art by HOWARD PORTER and others
cover by HOWARD PORTER
ON SALE 4/27/21
$34.99 US | 264 PAGES | FC | DC
HARDCOVER | 7.0625″ x 10.875″
ISBN: 978-1-77950-951-2
Batman is the ultimate strategist, using his intelligence and resources to secure his place among his super-powered allies in the Justice League, not just as a member, but as one of the team's leaders. But what happens when that intelligence is used against him? Ra's al Ghul takes out the JLA, one member at a time' using plans devised by Batman himself, with his own methods to subdue his teammates if they ever got out of control. Can the Justice League recover in time to stop Ra's?
This collection of JLA adventures also includes a spacefaring mission guest-starring Adam Strange, as well as the Justice League investigating mysterious destruction in Gotham City! This volume collects JLA #18-21, #32-33, and #43-46, and two stories from JLA Secret Files #3.