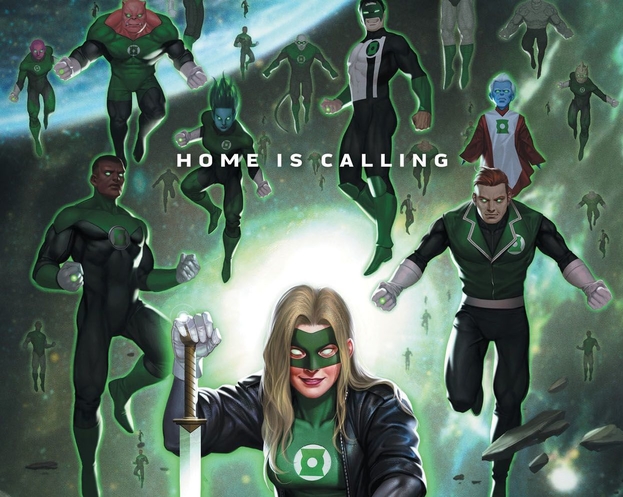 Its that oh so special time again! You know the vibes. Peek into the future and see what's to coming with all things Green Lantern for the spooky month of October.
DC THE DOOMED AND THE DAMNED #1
written by KEN PORTER, JOHN ARCUDI, SALADIN AHMED, ALYSSA WONG, TRAVIS MOORE, MARV WOLFMAN, and more
art by RILEY ROSSMO, MIKE PERKINS, LEONARDO MANCO, TRAVIS MOORE, TOM MANDRAKE, and more
cover by KYLE HOTZ
PRESTIGE FORMAT | ONE-SHOT
ON SALE 10/13/20
$9.99 US | 80 PAGES | FC | DC
It was a dark and stormy night when the creatures of the DC Universe began to emerge from their lairs into the cool evening air. Tales of the macabre, the murderous, and the morbid abound in this spine-chilling special about monsters and mayhem! What happens when Batman encounters a true urban legend after speaking its name three times in a mirror, or when Madame Xanadu enlists the help of Man-Bat to take down a shadowy specter? And who can stop an intergalactic demon from turning people into frog beasts? Only the unlikely team-up of Green Lantern and Etrigan! All this and seven more fang-tastic tales to trick your treats and bob your apples.
DCEASED: DEAD PLANET #4
written by TOM TAYLOR
art by TREVOR HAIRSINE and GIGI BALDASSINI
cover by DAVID FINCH
card stock variant cover by FRANCESCO MATTINA
card stock movie homage variant cover by INHYUK LEE
ON SALE 10/6/20
$3.99 US | 32 PAGES | 4 OF 7 | FC | DC
CARD STOCK VARIANT COVERS $4.99 US
Time is running out for the Justice League to unlock the Anti-Life cure as they face a deadly new threat on Earth—in addition to the billions of the undead! Their final desperate attempt at finding the cure will take them off-planet for the greatest heist in the history of New Genesis!
STRANGE ADVENTURES #6
written by TOM KING
art by MITCH GERADS and EVAN "DOC" SHANER
cover by MITCH GERADS
variant cover by EVAN "DOC" SHANER
ON SALE 10/6/20 | $4.99 US | 32 PAGES
6 OF 12 | FC | NO ADS | CARD STOCK COVERS
DC BLACK LABEL | AGES 17+
How determined is Mr. Terrific to find the truth? The answer becomes more challenging as the whole world starts to turn against him. Adam Strange is a hero who can save the Earth from alien invasion, and who is Mr. Terrific to say otherwise? The extent of the denial only makes the man more suspicious.
Not that the warmongering Pykkts care one way or the other. If Strange is to be believed, they only have one thing on their minds: taking over the planet. Adam and his wife beat them back once before, and the key to doing it again is to dig into the past that Mr. Terrific is so hell-bent on destroying.
Read the series IGN calls one of the most anticipated comics of the year!
FAR SECTOR #8
written by N.K. JEMISIN
art and cover by JAMAL CAMPBELL
variant cover by INHYUK LEE
ON SALE 10/6/20
$3.99 US | 32 PAGES | 8 OF 12 | FC
BIMONTHLY | DC BLACK LABEL | AGES 17+
While still processing her feelings about Councilor Marth, Jo tracks down the "riders" who killed Averrup Thorn, and gets the first hint of what's really going on beneath the surface of the City Enduring. Reporting to the Council, Jo is disgusted to realize she's facing the same kind of callous, responsibility-avoiding bureaucracy as back home on Earth.
THE GREEN LANTERN SEASON TWO #8
written by GRANT MORRISON
art and cover by LIAM SHARP
variant cover by SIMONE BIANCHI
ON SALE 10/13/20
$3.99 US | 32 PAGES | 8 OF 12 | FC | DC
War with the Anti-Matter World! The cliffhanger to Season One led to this cataclysmic confrontation! We saw that only one anti-matter soldier could decimate a small army of Green Lanterns. What happens when a horde of them strike?
JUSTICE LEAGUE ODYSSEY #25
written by DAN ABNETT
art by WILL CONRAD
cover by LADRÖNN
variant cover by SKAN
ON SALE 10/13/20
$3.99 US | 32 PAGES | FC | DC
FINAL ISSUE
Final issue! The Justice League's intergalactic team of Green Lantern Jessica Cruz, Orion of the New Gods, Red Lantern Dex-Starr, and New Teen Titans Starfire and Cyborg make a final stand against Darkseid in a battle that reshapes the cosmic landscape across every sector of space!
LEGION OF SUPER-HEROES #10
written by BRIAN MICHAEL BENDIS
art by RYAN SOOK and WADE VON GRAWBADGER
cover by RYAN SOOK
variant cover by DARKO LAFUENTE
ON SALE 10/27/20
$3.99 US | 32 PAGES | FC | DC
A grudge that has endured 1,000 years! The unstoppable behemoth Rogol Zaar has survived the millennium to haunt Jonathan Kent where he least expected it! It's a menace so terrible the Legion of Super-Heroes may not survive. Was this the challenge Brainiac 5 predicted? Is the Legion up to the task? Plus, who is dating whom in the 31st century? Another searing chapter in the far-flung future of the DC Universe, courtesy of Bendis, Sook, and von Grawbadger!
YOUNG JUSTICE #19
written by BRIAN MICHAEL BENDIS and DAVID F. WALKER
art by SCOTT GODLEWSKI
cover by JOHN TIMMS
variant cover by DARKO LaFUENTE
ON SALE 10/6/20
$3.99 US | 32 PAGES | FC | DC
Wonder Girl calls Young Justice together to help her with a family problem. Seems the pantheon of Greek gods is having a hard time with some of Cassie's choices. She's taking a stand to change rules as old as the heavens! And she is going to need her team by her side to do it.
INJUSTICE: GODS AMONG US OMNIBUS VOL. 2 HC
written by BRIAN BUCCELLATO, CHRISTOPHER SEBELA, and TOM TAYLOR
art by BRUNO REDONDO, JUAN ALBARRAN, TOM DERENICK, XERMANICO, SERGIO SANDOVAL, IBAN COELLO, MARCO SANTUCCI, POP MHAN, DANIEL SAMPERE, JHEREMY RAAPACK, MIGUEL MENDONÇA, and others
cover by HOWARD PORTER
ON SALE 12/15/20
$125.00 US | 1,104 PAGES | 7.0625″ x 10.875″ | FC | DC
ISBN: 978-1-77950-468-5
The epic and brutal Injustice saga continues in this omnibus collection based on the bestselling video game, bringing the complete Year Four, Year Five, and Ground Zero stories together in one volume! When Superman and the Justice League declared themselves the ultimate authority on planet Earth, only Batman stood against them. For years, the former friends and allies have fought bitterly, with casualties on both sides. Now, at an impasse, both Batman and Superman realize that to gain ground in their battle, they'll have to do the unthinkable: recruit their former enemies to attack their former friends. Plus, Injustice: Ground Zero bridges the gap between the Injustice and Injustice 2 games! Collects Injustice: Gods Among Us Year Four #1-12, Injustice: Gods Among Us Year Four Annual #1, Injustice: Gods Among Us Year Five #1-20, Injustice: Gods Among Us: Year Five Annual #1, and Injustice: Ground Zero #1-12.
JUSTICE LEAGUE BY SCOTT SNYDER BOOK TWO DELUXE EDITION HC
written by SCOTT SNYDER and JAMES TYNION IV
art by JORGE JIMENEZ, JIM CHEUNG, JAVIER FERNANDEZ, FRANCIS MANAPUL, STEPHEN SEGOVIA, PASQUAL FERRY, and DANIEL SAMPERE
cover by JORGE JIMEMEZ
ON SALE 12/1/20
$39.99 US | 344 PAGES | 7.0625″ x 10.875″ | FC | DC
ISBN: 978-1-77950-584-2
Scott Snyder reunites the World's Greatest Heroes for epic journeys to "Hawkworld" and "The Sixth Dimension" in the second deluxe edition hardcover of the superstar writer's Justice League run!
Martian Manhunter, John Stewart, and Hawkgirl take a trip to Thanagar-Prime, as J'onn looks to tap into the ancient Martian mental database, Green Lantern struggles while practicing his new UV powers, and Kendra searches for answers about her connection to the Totality.
Then, the Justice League has the map to the Sixth Dimension in hand—the key to saving the Multiverse from utter destruction! But with Superman trapped on a world with no light and hundreds of dead Supermen, Lex Luthor's Legion of Doom is poised for victory. The final form of Perpetua takes shape, and the DCU will never be the same again! Collects Justice League #14-25 and Annual #1.
JUSTICE LEAGUE UNLIMITED: TIME AFTER TIME TP
written by ADAM BEECHEN, STUART MOORE, JASON HALL, and STEVE VANCE
art by CARLO BARBERI, GORDON PURCELL, TIM LEVINS, MIN S. KU, and JOHN DELANEY
cover by TOM FEISTER
ON SALE 11/3/20
$9.99 US | 160 PAGES | 5.5″ x 8″
FC | DC
ISBN: 978-1-77950-724-2
No matter where—or when—evil hides, the Justice League is ready to defeat it! This collection of all-ages stories set in the animated world of Justice League Unlimited include a trip to the future where our heroes team up with the Legion of Super-Heroes to try to defeat Kilg%re! The Justice League also travel to medieval Camelot—helping Shining Knight defend his kingdom from Morgan Le Fey and her evil army! And it's a trip to the Wild West as Wonder Woman, Elongated Man, and Vigilante enlist the help of Jonah Hex, Bat Lash, and El Diablo to go up against the Time Commander! Collects Adventures in the DC Universe #10, Justice League Adventures #28, #30, and #34, and Justice League Unlimited #9 and #19.