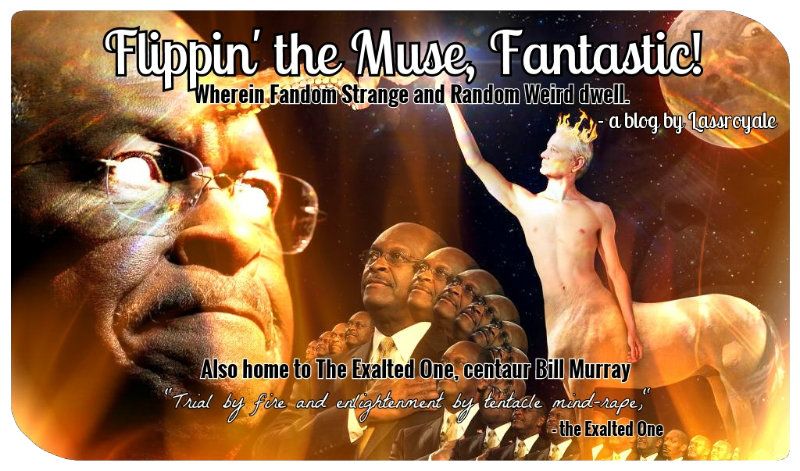 Herein lurks the lurkiest Muse to ever lurk, though occasionally said Muse does come up with grand tales spun between eloquent prose. Mostly, though, he's just a crazy bastard who rambles a lot and falls asleep in the middle of telling a story. My lovely Muse is also a sadist with a penchant for writing violence, torture, dub-con, non-con, and porn. And, strangely enough, sensual poetry. *shrugs*
Everything from random non-sequiturs apropos of nothing to rants to original fic to FANFIC (m/m or slash pairings, mostly) will be found in my little slice of blogger Pergatory.
You've been warned.
Random Weird
The ramblings of a fickle Muse, an easily distracted mind, and wandering trains of thought. You'll find anything and everything not blatantly fandom-related, here.
Posted 03-06-2013 at 07:08 PM by

Lassroyale

(Flippin' the Muse Fantastic)

Updated 03-07-2013 at 09:18 AM by

Lassroyale

---

I would just like to announce...that I am currently involved in a really, reaLLY, REALLY deep and unbridled loathing of Noomi Rapace's face. I don't know why, nor do I care to be that introspective right now to ascertain the reason; her face simply BOTHERS me.

At least right now it does. I think the movie Prometheus has a lot to do with my current "Anti-Rapace-Face" stance. The movie Prometheus probably has a lot to do with many people's "Anti-Aliens-Franchise"...

Sinestro's Sparring Partner

Views

2476

Comments

0
Posted 03-05-2013 at 06:04 AM by

Lassroyale

(Flippin' the Muse Fantastic)

Updated 03-07-2013 at 09:17 AM by

Lassroyale

---

H

ey writers...can we retire the word, 'whilst' for awhile? Now I'm not saying it needs to be benched forever, but it couldn't hurt for it to observe from the sidelines for a bit, right? You don't need to play him every day, just once in awhile when you have a sentence that needs a conjunction with just a little extra whimsy in it, as a nod towards its Middle English roots. Or perhaps you...

Sinestro's Sparring Partner

Views

1605

Comments

0