Couldn't make it to San Diego for Comic Con? Not interested in twitter? Or maybe you just ignored TheGreenLanternCorps.com mainpage news feed. Either way, we forgive you. So without further ado, here's a recap (in no particular order) of everything Green Lantern related from San Diego Comic Con 2013!
First, Warner Bros. Animation confirmed on the eve of the con that the first animated DC Universe film of 2014 would be "Justice League: War", which will be adapting the first arc of the Geoff Johns and Jim Lee's Justice League book that kicked off the New52. Speaking of Johns and Lee, they both appear in the trailer for the upcoming documentary, "Necessary Evil: Villains of DC Comics"
What? Speaking about DC movies, DC Entertainment President Diane Nelson had a chat with THR about the failure of the Green Lantern movie and success of the latest Superman one. She also detailed much more including her top 5 wishlist of DC properties that should be movies.
Both Justice League of America #6 and Green Lantern: New Guardians #22 hit stores on Wednesday. Check out previews for both issues in case you are still under that rock of yours.
This ad for Forever Evil teases the "unexpected" featuring a female Green Lantern. Early speculation seems divided by those who think its the return of Katma Tui, a spotlight on Soranik Natu or even the Geoff Johns partially created female lantern from Green Lantern #20.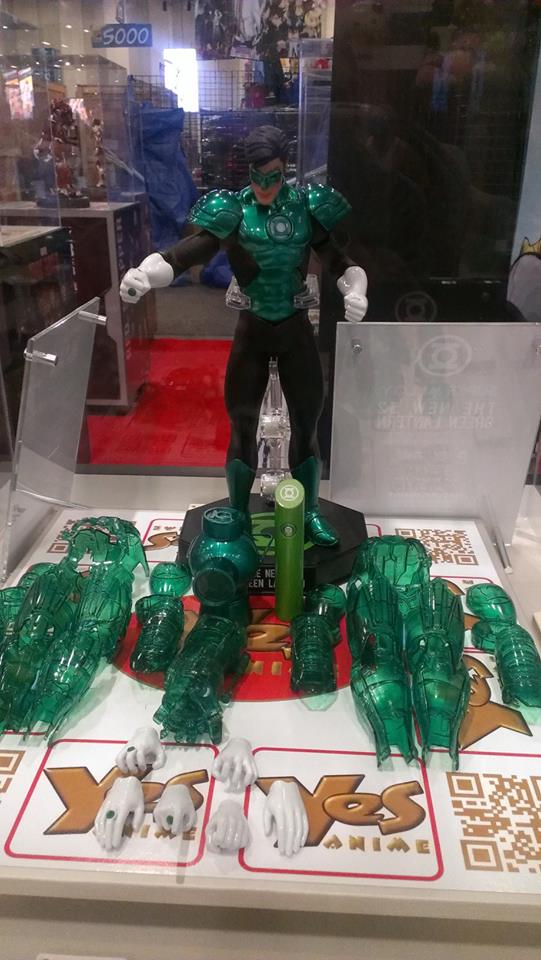 Play Imaginative's showed off their Green Lantern figure complete with constructs(and multiple hand poses) as you can see above. Check out a few more shots of the figure here.
DC Entertainment opened San Diego Comic-Con 2013 today with a special press conference in which the eighth and final customized JUSTICE LEAGUE Kia was unveiled and completed before a live audience by legendary artist and DCE Co-Publisher Jim Lee. Immediately after the unveiling, DCE President Diane Nelson announced that the car would be the centerpiece of a 10-day online auction in partnership with eBay to benefit the "We Can Be Heroes" giving campaign. This auction is currently live and will run through July 27th. And in case you had any doubt, the Green Lantern vehicle was also on hand.
DC Collectibles unveiled figures based on the upcoming Scribblenauts videogame, and guess what? One of the figures is Green Lantern Sinestro. Oh and lots more figures too.
While we're talking about the Scribblenauts Unmasked videogame, how about we show you the Geoff Johns and Jim Lee narrated video showing the game's "Hero Creator" feature? Yeah, I think that's cool too.
Getting back to comics, DC Editor Brian Cunningham spoke about "Trinity War" with CBR and Newsarama respectively. This looks to be a weekly thing so expect more from Brian as the mini event continues.
Robert Venditti chatted with ComicVine about Hal Jordan, Billy Tan's hilarious constructs and the new Star Sapphire, Nol Anj.
The first GL related panel of the convention was Thursday's DC All Access panel. Geoff Johns talked about his recent conclusion and epilogue in Green Lantern #20 saying "If I was going to write these characters forever, where would they end up?" He then added "Some of them, I wanted to have closure. The human guys — Hal, Kyle, John — I wanted to give them their sendoff."
At the DC Collectibles Thursday panel, we received news that the long awaited(at least for players like myself) Justice League Chess Set would be coming soon. In other figure news, we will be getting action figures(diecast and composite resin construction) from Bandai's S.H. Figuarts line based on the "Injustice: Gods Among Us" videogame. Coming in 2014.
Writer James Robinson spoke with CBR about his departure from Earth 2. Robinson said "I can talk about it, but will I or will I choose to? You know, it just brings up a lot of — what annoys me for instance is another website that will remain nameless has speculated on why I left, which is just gossiping muckraking. I'd rather just not deal with that. DC and I parted ways and let's just leave it at that. Obviously, the grand vision I had for "Earth 2″ is not going to happen, so we'll see what kind of a grand vision the book now has."
And speaking on E2, here's a quick interview with new writer Tom Taylor about him taking over for Robinson.
Geoff Johns capped off the "Trinity War" panel by letting fans know that Green Lantern Hal Jordan would be returning to Justice League next year.

At the New52 panel, DC gave us the first glimpse at Red Lanterns #22. Writer Charles Soule had this to say about Guy Gardner who just received his red lantern ring: "Guy Gardner gets his in a way…and the way it plays out is really interesting," Soule said, telling the audience that the first move Gardner makes is to take the team off Ysmault and go "House hunting" for a new lair. There is also a line Soule told the room he wasn't sure would get approved by editorial, but finally did and asked the laughing crowd to "look out for it!"
Then on Saturday, we got the latest news on Warner Bros. plans for DC movie properties. A "Batman/Superman" movie to come in 2015 followed by "The Flash" in 2016 and then a full on "Justice League" film in 2017. Attendees were even treated with a Batman/Superman logo.
What else happened on Saturday?! Because you need more than knowing that Green Lantern will be back on the big screen in four years time? Well, the Green Lantern: Recharged! panel was also on Saturday!
"One of the things that we wanted to do as new writers on these titles was to use this crossover to reconfigure some of your preconceptions on where these stories can go," says Red Lanterns writer Charles Soule on the upcoming "Lights Out" crossover. Green Lantern writer Robert Venditti said of the crossover "A lot of us are relatively new to you all as comic book writers…as a way of introducing ourselves this is a big, ambitious, risky story," and followed by saying they are involving every Green Lantern character across the DC New 52 Universe. Green Lantern Corps artist Bernard Chang told the audience that the crossover was fast paced but included lots of character.
When the fans were able to ask questions of the panel, they shot down any plans for miniseries and any involvement with Green Lantern Alan Scott(who if you didn't know stars in Earth 2) as well as a no comment on anything Sinestro. Sorry Matt Kindt.
When asked about the entities role in the New52, "You're going to know that real soon," Venditti replied. Will we see Earth based Hal Jordan adventures? Yes, but not quite soon as Venditti has a few outerspace conflicts planned for Hal. And what about new Earth lanterns as speculation ramps up about Jessica Cruz? "That's something we probably shouldn't talk about," Venditti regretfully said.
If you can't see or chose not view the above video, let me explain it for you. On Sunday, for some reason AFTER the "Meet the Publishers" panel, DC Comics Co-Publishers Jim Lee and Dan DiDio bluntly revealed that one lantern corps and its battery would be destroyed during October's "Light's Out" event.
Hell of a way to end the biggest convention of the year, right? The next convention is the New York Comic Con in October, so until then!