The news just keeps on coming. Earlier today, Joshua Hale Fialkov stepped away from writing GLC and Red Lanterns. Now, courtesy of DC Entertainment's Executive Director of Publicity, we now know who will be replacing him on both books.
Green Lantern Corps will be co-plotted with incoming Green Lantern writer Robert Venditti and Van Jensen. Van Jensen is the writer of the Pinocchio, Vampire Slayer graphic novels and expressed his excitement for his new gig on GLC.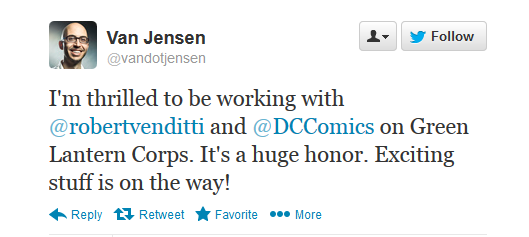 As for Red Lanterns, well that book now belongs to the new Swamp Thing writer, Charles Soule. Soule is most known for his Image Comics series 27.